5 Holistic Diet and Lifestyle Tips for Enhancing IVF Success
5 Holistic Diet and Lifestyle Tips for Enhancing IVF Success: In vitro fertilization (IVF) is a remarkable medical advancement that has offered hope and the possibility of parenthood to countless women and couples struggling with infertility. However, it's crucial to acknowledge that IVF is not only a medical procedure but also a holistic journey that encompasses physical, emotional, and lifestyle aspects.
In this article, we will delve deeper into each facet of the diet and lifestyle tips that women should follow during IVF treatment to increase the likelihood of a successful pregnancy.:-
1. Maintain a Balanced Diet
Maintaining a healthy weight is crucial for women undergoing IVF treatment. Both being underweight and overweight can negatively impact fertility. Excess body fat can lead to hormonal imbalances while being underweight can result in irregular menstrual cycles and disrupted ovulation. Work with a healthcare provider to achieve a healthy weight range before starting IVF.
a) Diverse Fruits and Vegetables: These colourful, natural treasures offer more than just flavour; they are packed with essential vitamins, minerals, and antioxidants that are particularly crucial for promoting reproductive health. Ensuring a rainbow of fruits and veggies on the plate can provide the body with the necessary building blocks for fertility success.
b) Lean Protein Sources: The quality of the protein consumed plays a pivotal role in supporting egg quality and overall fertility. Opt for lean meats, fatty fish rich in omega-3 fatty acids, eggs, and plant-based protein sources such as beans and lentils. These proteins provide the essential amino acids needed for reproductive health and hormone production.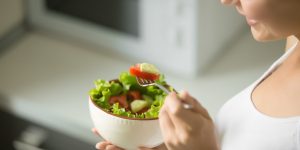 c) Whole Grains for Hormonal Balance: Whole grains like brown rice, quinoa, and oats offer a double benefit. They are rich in fibre, which aids in digestion and helps regulate hormone levels. Balanced hormones are crucial during IVF treatment, as they influence the maturation and release of eggs.
d) Processed Foods and Sugar Reduction: Highly processed foods and excessive sugar intake can disrupt hormonal balance and negatively affect fertility. Eliminating or significantly reducing these from your diet during IVF is essential. These dietary choices can help maintain stable blood sugar levels, a key factor in optimizing fertility.
(ALSO READ: 5 Simple Steps for a Sustainable Plant-Based Diet )
2. Stay Hydrated
Proper hydration is crucial during IVF treatment. Hydration is more than just quenching your thirst; it's about supporting your body's processes at a cellular level. Ensuring adequate water intake is essential for maintaining optimal blood flow to the reproductive organs, supporting hormone production, and aiding in the elimination of toxins from the body. Aim to drink at least 8-10 glasses of water per day recommendation, focus on herbal teas and water-rich foods like cucumbers and watermelon, and avoid excessive caffeine and alcohol intake, as they can dehydrate the body.
2. Exercise Regularly
Regular physical activity is a cornerstone of overall well-being and fertility enhancement. However, it's essential to strike a balance and avoid excessive or overly intense workouts that might stress the body. Choose moderate exercises like brisk walking, swimming, yoga, or cycling. These activities promote healthy blood circulation, reduce stress, and support hormonal equilibrium, all of which are vital during IVF treatment.
3. Manage Stress Levels
Stress can have detrimental consequences on fertility and the success of IVF treatments. Therefore, finding effective ways to manage stress throughout the IVF journey is crucial. Incorporate stress-reducing activities into your daily routine, such as mindfulness meditation, deep breathing exercises, journaling, or indulging in hobbies that bring you joy. Additionally, consider seeking support from loved ones or attending counselling sessions if needed. A calm mind and reduced stress levels can have a profound impact on your IVF experience.
4. Get Sufficient Sleep
Adequate and restorative sleep is fundamental to overall health and fertility. During IVF treatment, hormonal fluctuations and emotional stress can disrupt sleep patterns, making it more challenging to get the recommended 7-8 hours of quality sleep. However, establishing a consistent sleep schedule and creating a comfortable sleep environment are essential steps to get the rest that the body needs. Quality sleep supports hormonal balance, bolsters immune function, and contributes to your overall sense of well-being.
(ALSO READ: The impact of yoga on heart health and blood pressure )
5. Avoid Exposure to Harmful Chemicals
Toxic chemicals lurking in certain household cleaning products, cosmetics, and pesticides can wreak havoc on hormonal balance and fertility. Minimize exposure to these harmful substances by opting for natural and organic alternatives. Look for eco-friendly cleaning products, switch to organic skincare and cosmetics, and be mindful of the food consumed. Additionally, limit exposure to radiation from electronic devices, especially those close to your body.
As women undergoing IVF treatment is a transformative journey that encompasses multiple facets of health and well-being. By adopting these diet and lifestyle tips, women can take proactive steps to optimise their fertility journey and enhance their chances of conceiving.
Remember, while these guidelines provide a strong foundation, it's always advisable to consult with a healthcare professional for personalized guidance during IVF treatment. Unique circumstances and needs deserve individualized attention to ensure the best possible outcome on the path to parenthood.
By Dr Nisha Bhatnagar, Medical Director, Aveya IVF and Fertility Clinic