Real Rich: Navigating Economic Challenges and Seizing Opportunities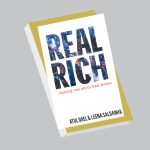 Real Rich, authored by Atul Goel, unravels the enigmatic tapestry of success within the Indian real estate sector, offering an invaluable compass for real estate professionals, investors, and stakeholders navigating its dynamic landscape. Delving into the depths of this ever-evolving industry, the book casts light on economic challenges and exclusive opportunities that define its trajectory.
In a meticulous exploration, Atul Goel examines the multifaceted economic challenges that have shaped the Indian real estate sector's evolution. With a keen eye, the book dissects critical elements like regulatory reforms, market oscillations, and financing constraints, providing profound insights into the intricate maze that stakeholders confront. Atul Goel, the esteemed Managing Director of Goel Ganga Group, lends his endorsement, affirming the book's significance in addressing the industry's challenges and opportunities while preserving consumer interests.
Renowned in the realm of real estate, Atul Goel exquisitely uncovers untapped vistas within the Indian real estate landscape. Through Real Rich, readers are armed with the knowledge to harness these opportunities for economic prosperity, underpinned by a consumer-centric philosophy. The book's treasury of inspiring case studies and success narratives drawn from industry luminaries further reinforces its practicality, showcasing examples of best practices that have steered notable accomplishments.
Central to its core, Real Rich champions ethical conduct, transparency, and a consumer-centric ethos. This clarion call resonates throughout the pages, spotlighting the essentiality of trust-building and enduring relationships among stakeholders. As the Indian real estate sector remains an integral catalyst for the nation's economic advancement, the book assumes the mantle of a guiding light, illuminating pathways for informed decision-making and unlocking the industry's latent potential.
In a symphony of words, Real Rich harmonizes economic acumen with industry wisdom, furnishing readers with a holistic toolkit for success. Atul Goel's magnum opus not only navigates the labyrinthine challenges but also underscores the harmonious interplay between progress and ethical responsibility. As the real estate sector's role in India's growth narrative deepens, Real Rich emerges not just as a literary masterpiece but as an indispensable manual, empowering stakeholders to harness the sector's prowess while upholding principles that steer it toward a luminous future.
About Goel Ganga Group– Goel Ganga Group is a distinguished name in the Indian real estate landscape, boasting over three decades of excellence. Established with a commitment to quality and innovation, the group has pioneered numerous residential and commercial projects across Pune and other cities. With an emphasis on customer satisfaction, Goel Ganga Group has earned a reputation for delivering high-quality developments that reflect modern design and sustainable practices. Guided by a visionary leadership, the group remains dedicated to creating spaces that blend aesthetic appeal with functionality, contributing significantly to India's real estate sector's growth and transformation.